7 Ways To Increase Your Photography Website Conversions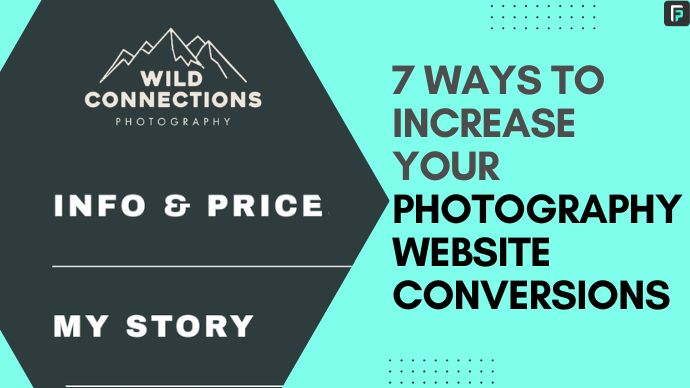 You've spent years learning your craft as a photographer, and you've invested hours into building a photography website for your business. And while you are getting a steady amount of traffic to your photography website, you still aren't getting enough inquiries or booking the clients you really want to be working with.
In this article, I'll share with you my top tips for simple changes you can make to your photography website to increase your conversions and get your booking rate up.
Image credit: https://wildconnectionsphotography.com
How Do You Increase Website Conversions?
Getting people onto your website in the first place is more than enough work when you're a busy photographer. You might have invested time into a solid SEO strategy that's getting you found on Google, or maybe Pinterest and social media are driving lots of traffic to your website.
Your website is your shop front, and however people are getting there, if they aren't taking the next steps to book and contact you, then you need to look at why your website isn't converting.
In my experience the following things can make a huge difference when it comes to increasing your website conversions:
1. Have Pricing On Your Website
Many photographers seem to like to keep their pricing secret, only revealing their prices to potential clients after an initial consultation where they can already start to build a relationship.
But if potential clients are never even taking that first step to contact you, then you never have the chance to build a relationship.
Our habits have changed over the last 10-15 years. We have less time than ever before and less patience. The age of social media and instant gratification has contributed to short attention spans.
If someone comes to your website to find out about working with you, they usually want to know one main thing – how much does it cost? And if they can't find the information, they will likely move on to the next website.
Having installed Hotjar on my own website, and recommending many of my clients do the same, the data shows that after landing on the homepage, the Pricing & Information is the most clicked link in the navigation.
Having pricing clearly on your website, even if it's just a starting price, allows people to instantly see whether working with you is within their budget. When they do take that next step and contact you, they already know that they can afford your rates, and are much more likely to convert into a paying client.
2. Customize Your Contact Form
Creating a great experience for your clients starts from that initial contact. A generic website contact form isn't doing you any favors when it comes to converting inquiries into bookings.
If you want to impress potential clients, start by creating a custom contact form rather than just having spaces for "your name" and "your message". The more information you ask on your contact form, the more you can personalize your initial response email.
Additionally, if you want to work with LGBTQIA+ clients, make it clear that your business supports diversity and inclusion by using gender-neutral language (such as partner 1 & partner 2 instead of bride and groom) and asking for pronouns.
Creating a custom contact form is fairly simple. There are a number of plugins that offer custom forms, but you can also directly embed a contact form from your CRM system into your website for a streamlined inquiry workflow.

Image credit: https://www.outdoorchroniclesphotography.com/
3. Follow-Up With inquiries Quickly
Most photographers are pretty good at responding to initial inquiries quickly. But when they don't get a reply in a few days, many forget about it and move on.
Having a timely follow-up procedure for inquiries can make a huge difference in whether you convert an inquiry into a booking.
With the busy lives that many people lead, it's easy for your emails to get lost in a client's inbox. Following up quickly after your initial email if you've not had a response, and on two more occasions after that show that you actually want to work with this client, and it keeps putting your name at the top of their inbox.
I've found the following follow-up sequence to work well:
Respond to initial inquiry within 48 hours of receiving it
First follow-up – 72 hours after sending the first email if no response
Second follow-up – 5 days after the previous follow up
Final follow-up – 7 days after the previous email
While the first email response to an inquiry is highly personalized, based on the information given in the contact form, the follow-up emails are all templated and are sent automatically from my CRM if the clients don't respond. That means I don't actually need to do anything. But usually, after the first follow-up, I do get a response.
4. Show Your Face (And Personality)
No matter what type of photography business you run, people are more likely to want to work with you if they know who you are.
Your website should have a photo of you that shows your face, preferably smiling and looking at the camera. As tempting as it is, try to avoid really artistic photos or ones where you're looking away from the camera. You want a photo where potential clients can look at your face and see who you are – and be able to recognize you when they meet you for the first time.
Your website can also show your personality. Depending on your niche, you may choose which parts of it you want to show, but people should still get a feeling for who you are.
People buy from people they like, and that's especially when you run a service-based business.

Image credit: https://www.madeinthemountainsphoto.com/
5. Be An Expert
You may have heard the phrase "Jack of all trades, master of none" and that can be applied to your photography business website too.
Even if you earn a living from different genres of photography, such as weddings, family and newborn photos, real estate photography, and corporate events, don't show everything you do on your website.
While you might think being able to shoot all of these different things demonstrates your skill, often the opposite effect happens. It shows that you're not an expert in any one area but shoot anything and everything.
Instead, focus on creating a website that demonstrates your expertise in a particular niche and leave everything else off (or in most cases on a different website).
6. Include Multiple Calls To Action
I recently read a post from a frustrated shopper who wanted to buy a laptop charger at the airport. They were waiting for a flight and realized they had left theirs at home. So they ran to the electronics store. When they couldn't find what they were looking for, they asked a sales assistant, who got one from a locked cabinet and walked off. They then spent 5 minutes walking around the store looking for the cash desk, to no avail. They managed to corner the sales assistant again and asked where to pay. He pulled out a payment machine and the sale was done.
Often when people come to your website, they might just be browsing to start with, but when they are ready to buy, are you making it easy for them to find the cash desk (aka how to take the next steps)?
No matter where someone is on your website, they should always be able to find a cash desk.
You can do this by making your contact page a standout option in your menu, and by having multiple calls to action throughout your site.
These calls to action should be direct and to the point. Even if your brand is playful and fun, your calls to action are not the time to be cute or clever. Tell people exactly what they need to do in easy-to-understand words.
Schedule A Consultation
Contact Me
Book Now
Request A Brochure Today
Image credit: https://wildconnectionsphotography.com
7. Sell The Experience, Not The Product
Loads of photographers are guilty of creating pretty-looking websites, but they forget one crucial thing. You think your photos are what sells you. But they aren't.
Everyone who books a photographer knows they will get photos as the final product. But what else is it that they get when they work with you?
What do your clients want from booking a photographer?
What makes working with you different from everyone else?
What is the experience they get when they become your client?
How will their life be better when they do?
Take clients on a journey, not just in photos, but with words. Invite them to imagine what working with you would look like, and how their life will be better because they do.
Make them crave the whole experience you provide, not just the photos at the end, and they'll be eager to move forward and work with you.