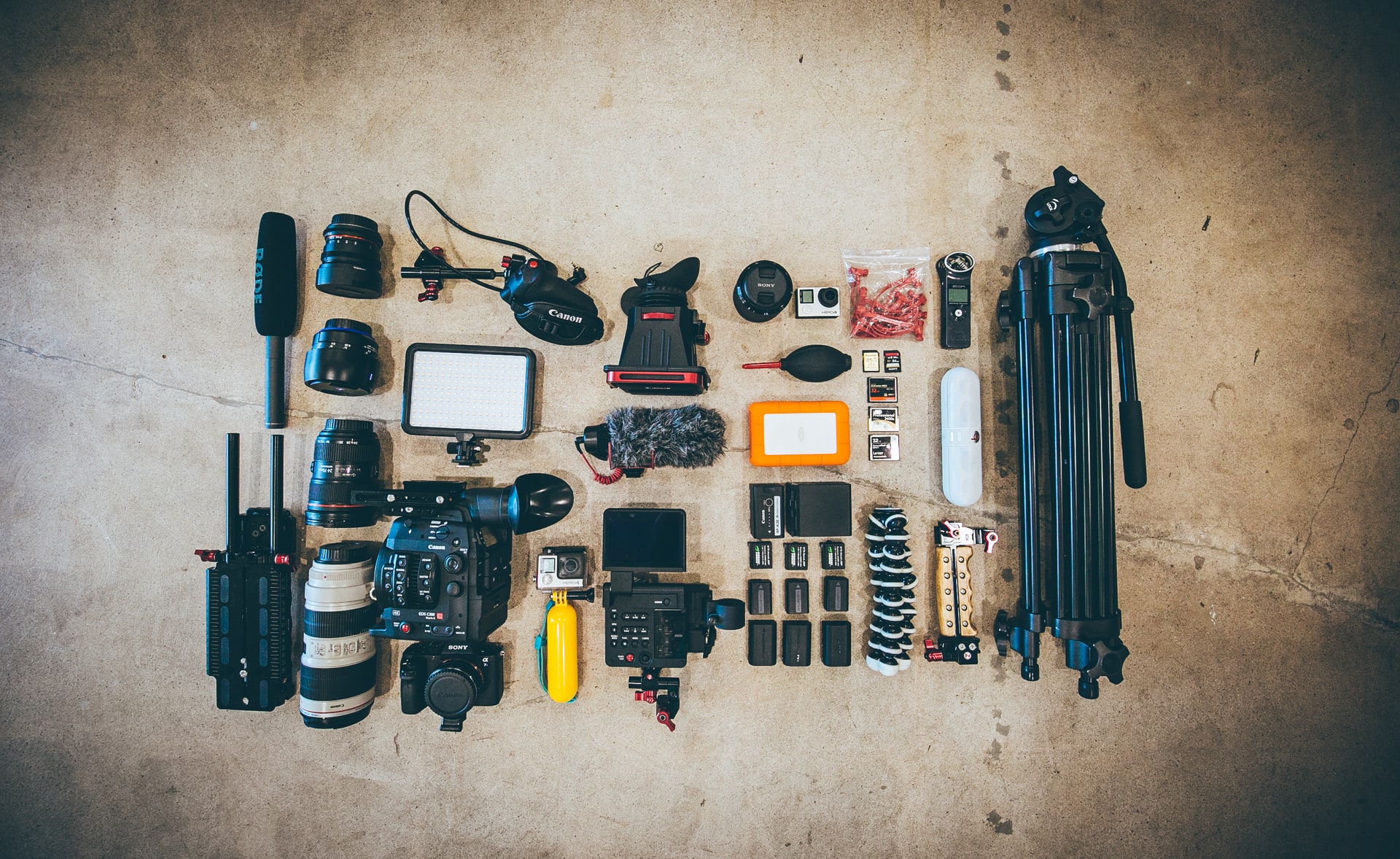 In the first post, we discussed how to find the best photoshoot locations and scouting options.
In this post, we have created a comprehensive checklist that you could use for your next photo-shoot.
A checklist for a photo-shoot is one of the most important things in a Professional Photographer's workflow. It keeps things organised and makes sure you have everything you need for a smoother and faster workflow.
You might want a separate checklist for landscape photography as compared to wedding photography or portrait photography.
A customized photo-shoot check-list that fits your requirement helps in keeping things efficient and refined.
Here is a Photoshoot Checklist that will help you speed up your workflow for your future gigs.
1) Memory Cards
High-performance memory cards are a must when you are shooting a wedding or an important event. If you are using two 64GB cards for your whole event, you would ideally want to keep 2 extra cards (and a couple of smaller ones) as a backup in case the ones inside the camera go bad. And it's best to format your memory cards every time before a shoot. (Also carry a medium permanent marker to name your cards as soon as it's filled up)
What to look for?
A memory card that has a fast write speed and is compatible with your camera is your best bet. You can check the compatibility of your device by looking for the (SD, SDHC and SDXC) Logo on your camera.
Here are the top three contenders for memory cards with high speed and performance:
Lexar Professional 2000x 64GB SDXC UHS-II Card: Increased speed performance with up to 300 MB/s with Class 10 performance
64 GB: Priced at $86.99
Compatible with SDXC and SDXC UHS-I enabled host devices
ProGrade SD UHS-II 64 GB Card V60: Enhanced performance, quality, compatibility, and reliability with transfer speeds up to 130 MB/s write speed and 250 MB/s read speed.
64 GB priced at $34.99 (pack of 2) MB/s read speed
Compatible with SDXC
Sandisk Extreme Pro UHS-I, 128 GB SDXC: Transfer speeds up to 170 MB/s for a faster post-production workflow.
Priced at $32.72 (128 GB).
Compatible with CompactFlash supporting host devices.
2) Memory card reader
What would you do without a high-speed memory card reader? A good card reader, preferably from the same brand as the card, is a safer option when it comes to reliability.
Here are the three best memory card readers with great reviews.
i) Unitek Aluminium 3-Slot USB 3.0, Type-C Flash Memory Card Reader: This 3 Slot Card Reader is highly compatible with high-speed transfers at 480 Mbps
Hardware Interface: USB Type C
Priced at $16.99
Compatible with SDHC, SDXC, Micro SD, Micro SDHC (UHS-I), Micro SDXC (UHS-) and CF Type I/MD/MMC
ii) Lexar Professional Multi-Card 3-in-1 USB 3.1 Reader: A versatile card reader that delivers high-speed file transfers up to 312 Mbps for SD and 160Mbps for CF cards.
Hardware Interface: USB 3. 1 and 2. 0
Priced at $24.99
Compatible with CompactFlash (including UDMA 7), SD, SDHC, SDXC, SD UHS-I and UHS-II memory cards
iii) SanDisk ImageMate PRO Multiformat Reader/Writer: Super Compatible with all kinds of cards and transfer speeds up to 312 MB/s
Hardware Interface: USB 3. 0
Priced at $59.99
Compatible with UHS-II, UHS-I or non-UHS SD or microSD card, also works with CompactFlash cards up to UDMA 7
3) Memory Card Holders
A good quality water-resistant memory cardholder should do the trick when you want to keep your cards organized and safe from external damage like water or heat.
4) Camera
Getting your camera spruced before the shoot is a 'must do' for every photographer. Make sure to reverse all previous settings from a previous shoot and get your settings back to normal or auto mode to help you begin afresh. Also, pack your Camera cleaning kit if you are shooting outdoors where your camera can be prone to accumulating dust or sand.
5) Lens and Filters
Get your lenses/filters cleaned before the shoot and store them in a Lens/filter case to keep it dust free and prevent scratches. Also, use a universal lens cap to protect the front element of your lens from damage.
6) Lighting Gear
Flashes, Speedlight, lighting kits, wireless triggers and reflectors are all crucial lighting tools you wouldn't want to forget. And keeping all your lighting gear ready by recharging their batteries before the photoshoot will give you the confidence that you have all the tools necessary to light up your photos. And always carry a bunch of spare batteries every time you are out on a photoshoot.
7) External Hard-drive
A high quality external hard drive with high-speed performance and storage capacity can be your knight in shining armour when it comes to backing up your photos after your photoshoot. Therefore, it's best to keep it safe from physical damage and heat by storing it in its waterproof case. Also, remember to defragment it before the shoot to keep the speed optimized.
Take a look at the top three external hard drives with high-speed performances for professional photographers.
i) SanDisk 1TB Extreme Portable SSD: Solid-state performance with up to 1050 MB/s read speed and 1000 MB/s write speed
Priced at $179.99 (1 TB)
Hardware Interface: USB 3.1 Type-A, USB 3.1 Type C
ii) Samsung T7 500GB USB 3.1 Pocket Size Portable External SSD: Good durability and compact design with transfer speeds up to 540 MB/s
Priced at $79.99 (500GB)
Hardware Interface: USB 3.0 Type C
iii) WD 500GB My Passport SSD External Portable Solid State Drive: Super-fast with 1050MB/s and write speeds of up to 1000MB/s
Priced at $89.00 (500GB)
Hardware Interface: USB Type C
8) Laptop/ Computer
Keep your computer clean. Delete those unwanted apps and files and empty your trash. Clear the clutter from your hard drive and store your files into organised folders. A cleaner computer leads to a speedier workflow.
9) A good quality water-resistant Camera bag
A good camera bag should be durable and made of sturdy stuff. The interior of the bag should have proper slots and spaces for all your equipment. And the straps should be strong and supportive so as not to burden your back too much.
And if you travel a lot, make sure it's a good fit as a cabin bag or carry-on!
What goes inside it?
· 2 Cameras
· Lens and filters inside a case
· Batteries and battery charger
· Tripod
· Memory card, memory card reader and a cardholder
· Laptop
· Snacks
· An extra pair of clothes
· Phone and Power bank.
Here are three options for a good camera bag.
i) Lowepro LP37127-PWW, Flipside 300 AW II Camera Backpack
Priced at $75.00, this backpack fits a DSLR with two additional lenses and is designed for easy access without setting the bag down. It is weatherproof and customizable with a removable, padded accessory pouch.
ii) Vanguard ALTA FLY 55T DSLR Camera Backpack, 4 Wheel Spinner/Trolley
Priced at $198, this award-winning backpack is a perfect airline carry-on for constant travellers. It is made for safety and is padded with double security buckles and shoulder straps. It also has many compartments to keep your extra accessories and is a perfect choice to keep your expensive gear safe.
iii) Endurax ShellX P01 Extra Large Camera Backpack Hardshell Protection for DSLR Camera Gear:
Priced at $109.99, this rugged outdoor camera bag is great for landscape photographers. It has armoured protection in the front and back and extra protective padding for your camera to prevent it from shaking too much. It has enough storage space for 2 cameras and also all other photography gear.
10) Other important essentials:
i) Your smartphone ( make sure you have apps and tools like photo ephemeris, Google earth pro to keep track of sunrise, sunset, golden hours, blue hour etc and also to use GPS for location tracking and other details)
ii) Permits and Licenses with regard to the permission you have obtained from the local authorities to shoot in the location
iii) Model or Client Contracts that specifies the terms of the photo-shoot.
iv) App for Checklists: Todoist is a really cool app to keep your project's checklists/to-do lists in sync with you or your team. It helps you prioritize your tasks and it's compatible with almost all platforms.
Conclusion
A professional photographer is very often hard-pressed for time and the last thing you need is another mishap or a careless mistake to ruin your photoshoot or even a part of it.
If you want to make sure that your photography business is running like a well-oiled machine, then it's always practical to have handy check-lists for your photoshoot and back up plans.
Any other smart tips and ideas to add to this checklist? Please feel free to send us your inputs.
If you want to read all the posts in our photography workflow series please click on the links below.