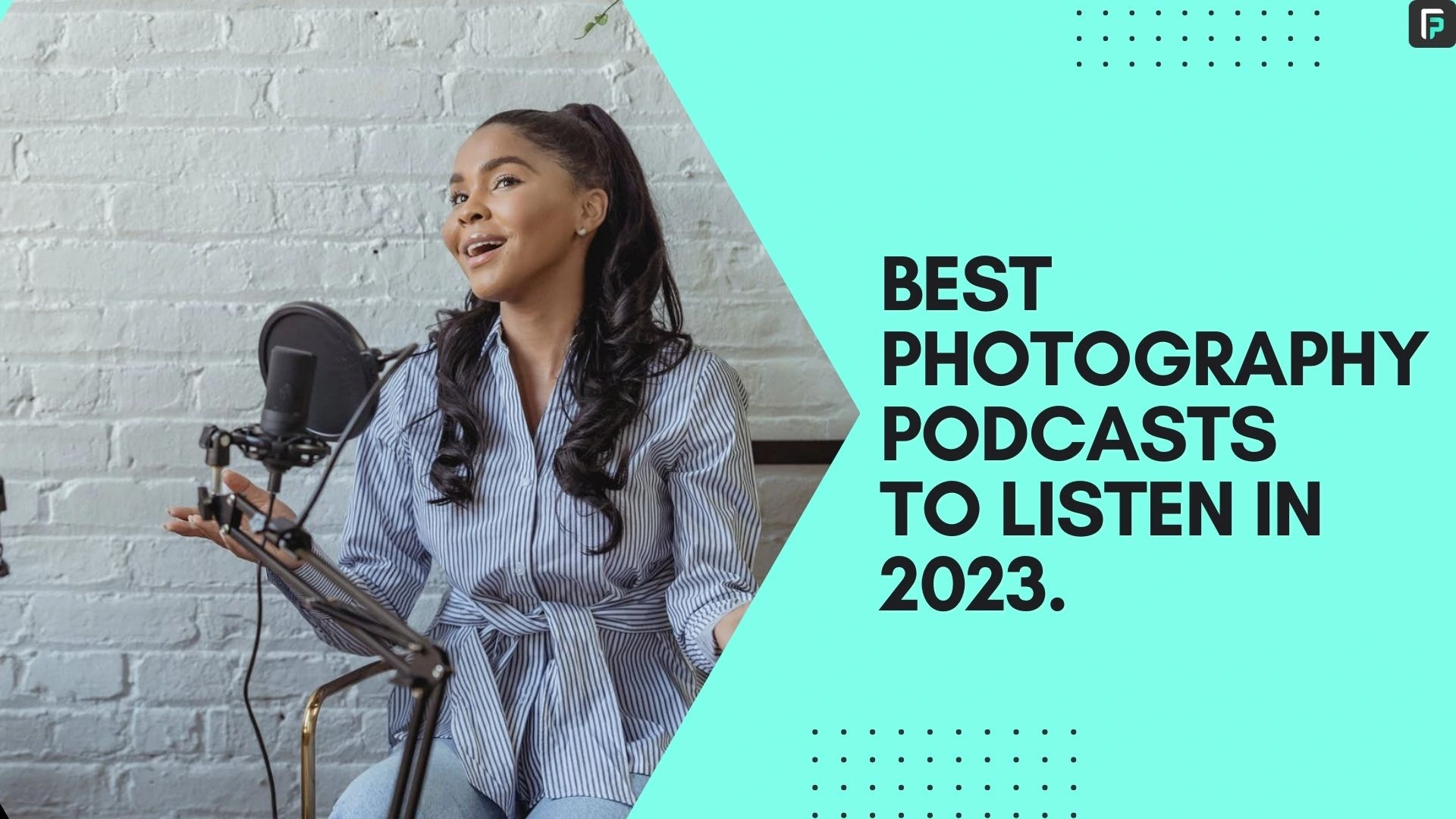 Podcasts are the newest form of entertainment in the photography industry. Not only are they fun to listen to, but they also provide tons of knowledge and ideas to young creative minds of up-and-bringing photographers.
If you are a professional photographer, you can listen to these podcasts comfortably while driving from work in your car or while editing/culling your photos from your recent shoot.
A lot of these podcasts invite guests that are experts in their field (mostly photographers) to talk about a certain topic, which can help the podcast subscribers in their photography journey.
Depending on the podcast you are listening to, most of the topics revolve around dealing with photography clients, business issues, photography news, or photography as art itself.
Let's look at some of the best podcasts photographers can listen to and what topics they cover in their podcast:
B&H Photography podcast
PetaPixel Photography Podcast
Froknowsphoto Photography Podcast
The Portrait System Photography Podcast
The Beginner Photography Podcast
The Six Figure Photography Podcast
Oh Shoot! With Cassidy Lynne
Book More Clients Photography Podcast
PhotoBizx The Ultimate Portrait and wedding business photography podcast
Make Your Break Podcast
Marketing Tips for Photographers: The Tog Republic Podcast
B&H Photography Podcast is one of the most popular podcasts among photographers. The podcast is hosted by Allan Weitz. Allan is also a senior technical writer on the B&H Explora website.
In this podcast, Allan discusses everything related to photography from gear to history, science, and art. Every episode consists of industry experts and photographers of different genres that are invited to the podcast.
Available on: Apple Podcasts, Spotify, and Google podcasts.
With more than 375+ episodes and counting, Petapixel photography podcast is a lighthearted photography podcast hosted by Mike "Sharky" James.
Along with the Podcast, Mike is the creator of the Lensshark website. He uses his photography skills to help improve the skills of other photographers in the world through his decades of experience in photojournalism.
Petapixel photography podcast is also revolved around inviting different photography experts as guests to talk about various topics such as news, humor, and real-world experience related to photography.
Available on: Apple Podcasts and Spotify.
FroKnowsPhoto Podcast is a photography podcast hosted by Jared Polin.
Jared is a Youtuber and author of the book "Bernie: Photos by Jarden Polin". In his podcasts, Jared Polin hosts 3 of his popular shows such as RAWtalk, The Daily Fro, and even the original I SHOOT RAW.
In the Daily Fro, Jared sits down to talk about what is on his mind. It could be anything related to Photography, personal or business-related, and is somewhat shorter in duration than his RAWtalk episodes which are more geared towards origin stories, the pitfalls of shooting weddings, Instagram, images of Mars, and more.
Available on: Apple Podcasts, Spotify, Stitcher and iHeartRadio
Portrait System Podcast is hosted by Nikki Closser. Nikki is a mentor in the Sue Bryce Education community.
The podcast is geared towards Nikki interviewing portrait photographers running their portrait photography businesses from around the world using the business model Sue Bryce teaches in her education community known as "Sue Bryce Education".
Available on: Apple Podcasts, Spotify, stitcher, overcast, and google podcasts.
The Beginner Photography Podcast is hosted by professional photographer Raymond Hatfield. In this podcast, various experts across all photography genres are invited to talk about secrets they wished they knew while starting out their photography career.
This podcast is mostly aimed at improving the various skills of beginner photographers of all kinds of genres.
Available on: Apple Podcasts, Spotify, Deezer, google podcasts, and a lot more.
The Six-Figure Photography Podcast is hosted by Ben Hartley. Ben Hartley is an award-winning wedding photographer specializing in creating content that helps wedding photographers boost their business.
His podcast "Six-figure Photography with Ben Hartley" is all about helping photographers grow their photography business and get the RIGHT clients. Each episode has some experts invited to guide photographers on a specific topic related to growing their photography business.
Available on: Apple podcasts, amazon music, and Spotify.
Cassidy Lynne is a wedding and elopement photographer, educator, and host of the Oh Shoot! Podcast.
Oh Shoot! podcast comes every Monday and Thursday and usually involves Cassidy along with a guest sharing their real-life stories as photographers, expert advice, tips, and tricks to help photographers grow their business.
Available on: Apple Podcast, Spotify, and amazon music.
Book More Clients Photography podcast is hosted by Brooke Jefferson.
Brooke is a photographer and business coach who helps up-and-coming photographers transform their business and turn it into full-time photography businesses.
With this podcast, Brooke helps photographers by giving advice on how to scale their business by creating a growing and consistent client base, automating their workflow, and transitioning into full-time photography.
Available on: apple podcasts, stitcher, and Spotify.
PhotoBizx is one of the best learning resources for wedding and portrait photographers. It is hosted by Andrew Hellmich who is a wedding and family photographer with more than 10 years of experience.
In PhotoBizX Andrew invites industry experts from Wedding and Portrait photography to interview and ask questions on photography that normal photographers would find useful in growing their skills and business as a photographer.
Usual topics include optimizing websites, SEO, marketing, branding, shooting, lighting, and everything helpful to photographers to grow their skills or business.
Available on: Apple podcasts, charitable and Spotify
Make Your Break Podcast is hosted by Jai Long. Jai Long is a wedding photographer and business coach.
This podcast is not limited to photographers and is open to all creatives who want to grow their businesses. According to their website "Whether you're a big-hearted creative or aspiring entrepreneur, we'll blow up your biz with actionable mindset tips and juicy industry secrets together."
Available on: Apple Podcasts, Spotify, charitable, and google podcast
The tog republic podcast is hosted by Carolina Guzik who is a wedding and family photographer based out of Miami.
In her podcasts, Carolina shares easy-to-implement marketing strategies that photographers can use to grow their businesses.
Some of the episodes include casual chats with industry leaders as guests that share their tips for wedding and portrait photographers to grow their businesses.
Available on: Apple Podcasts, spotify, charitable, or on the official site itself.
Conclusion
So here we have covered the 11 best podcasts for photographers that you can listen to. Most of these are aimed towards growing the business aspects of photography and almost all of them invite guests which brings new perspectives and expertise to the audience.
If you liked this blog and like to learn about photography, make sure to check out our blog for the best "Photography Educators" covering the best educators in the photography industry.